Making History Fun to Learn, Easy to Remember!
User-friendly Materials for Stress-free Teaching
Curriculum materials for students of all ages, in home school, private schools, and in families who want to supplement their children's public schooling.
Welcome to Time Lines Etc!
My name is Sharon Anderson and I love home schooling. l am also passionate about teaching history, which is why I created timelines. Whether you are just beginning to homeschool OR have been teaching your children at home for many years, these materials can empower you and help you succeed. As you discover how easy it is to teach history to your children and how much they enjoy it, you can become more confident in ALL areas of your homeschooling adventure.
To learn about each of our products, click on the product page link in the navigation bar on the left. If this is the first time you have come to my site I hope you will take a few minutes to...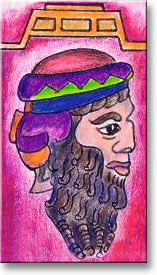 By the way, this is Sargon, one of the first emperors in ancient times. (You will meet him and many other interesting people in my timeline packets).
Find out today how Time Lines Etc. can save you time and energy . There is no need to wait. As parents we know how quickly our children grow. Time really IS of the essence!
To make this site easy to find next time you want to visit, add it to your favorites.
©2020
Site designed by Randy Fallows