Learning the Bill of Rights in Minutes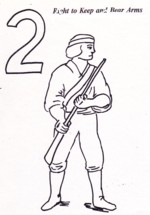 Each amendment is printed on colored card stock and is ready to display in notebook or classroom. Full page illustrations, ready to color, use association and visualization to teach the provisions of the first ten amendments to the Constitution. For example, amendment one shows, among other things, a picture of a church and a person speaking. Since we worship one God and have one mouth, it is easy to remember that the first amendment includes freedom of religion and freedom of speech. The picture for amendment three shows three soldiers wearing three cornered hats, standing in front of a house. Amendment number three is about the quartering of troops!



Historical notes and background information help explain the importance and significance of each amendment, as well as how to associate the illustration with the amendment. Learning the Bill of Rights in Minutes is an excellent teaching aid used by itself or with the US History Time Line Packet.